Get parts
for your Toyota Hilux Pickup LN172 3.0cc Diesel
RoughTrax supply the widest range of replacement parts & accessories for the Toyota Hilux Pickup LN172 Import. All our Hilux Pickup LN172 Parts are manufactured by trusted & recognised brands.
The LN172 Hilux Pickup is easily identified by its 3.0 Diesel 5L engine, and the tailgate handle in the middle of the tailgate, with torsion bar front suspension & leaf springs on the rear it shares the same suspension set up as the Mk4 & Mk5 Hilux Pickup. They were built with both a two door single cab & four door double cab body types from 1997-2005.
Our product range for the LN172 Hilux Pickup includes Body Parts, Suspension, Accessories, Engine Parts, Exhausts & Brakes to name a few. Browse through our full range of trusted replacement aftermarket & Genuine Toyota LN172 Parts online by selecting a category below.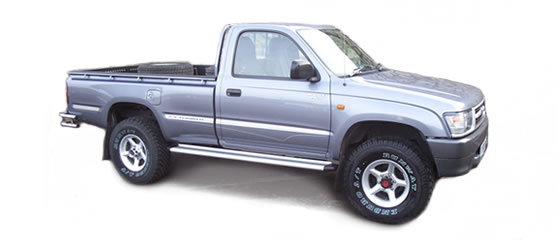 Part Number: ACFM13

Part Number: ACEL17
There are no products matching the selection.