Get parts
for your Toyota Hilux Pickup LN66L 2.4cc TD
RoughTrax supply the widest range of replacement parts & accessories for the Mk2 Toyota Hilux Pickup LN66L. All our Hilux Pickup LN66 Parts are manufactured by trusted & recognised brands.
The LN66L Hilux Pickup is easily identified by its 2.4 Turbo Diesel 2LT engine, and its black and clear side lamps and a latch tailgate handle on both sides of the tailgate. With leaf springs front and rear it shares the same suspension set up as the Mk3 Hilux Pickup. They were built with a two door, single cab body type from 1983-1988.
Our product range for the LN66L Hilux Pickup includes Body Parts, Suspension, Accessories, Engine Parts, Exhausts & Brakes to name a few. Browse through our full range of trusted replacement aftermarket & Genuine Toyota LN66 Parts online by selecting a category below.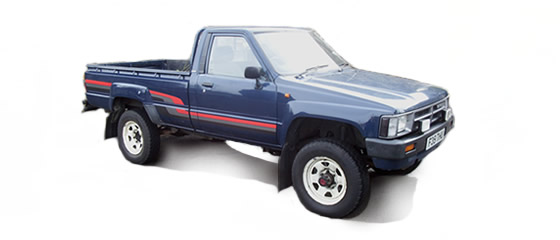 Part Number: ACFM13

Part Number: ACEL17
There are no products matching the selection.