Get parts
for your Toyota Hilux Surf KZN185 3.0cc TD
RoughTrax supply the widest range of replacement parts & accessories for the Toyota Hilux Surf KZN185 Import. All our Hilux Surf KZN185 Parts are manufactured by trusted & recognised brands.
The KZN185 Hilux Surf is easily identified by its 3.0 Turbo Diesel 1KZTE engine, the rear tailgate lifts up like a hatchback but on very rare models it has a tailgate where the window can wind up and down into the tailgate. The KZN185 is often known as the 3rd generation Hilux Surf and were built with a five door body type from 1995-2000.
Explore the latest KZN185 Vehicle Specifications that include lubricant types, capacities and service schedules for all areas as well as torque settings, vehicle weights, BHP and much more.
Our product range for the KZN185 Hilux Surf includes Body Parts, Suspension, Accessories, Engine Parts, Exhausts & Brakes to name a few. Browse through our full range of trusted replacement aftermarket & Genuine Toyota KZN185 Parts online by selecting a category below.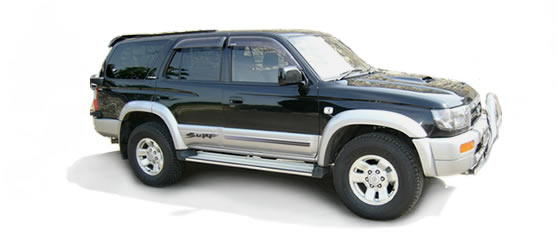 Part Number: ACFM13

Part Number: ACEL17
There are no products matching the selection.