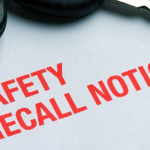 There are several ways to check whether your specific vehicle is subject to any current safety recalls, we have put together the best two means of checking your Toyota is subject to a vehicle safety recall.
Go to Toyota's very own online Recall Checker and enter your vehicles registration or chassis number, they will be able to confirm straight away if you are subject to an outstanding safety recall.
Alternatively you can Search for a Vehicle Recall and find out if a vehicle model, vehicle part or accessory has been recalled because of a safety fault on the DVSA website by selecting the date, manufacturer & model.
What does a vehicle safety recall mean?
A vehicle safety recall occurs when a manufacturer determines that a car model (or several models) has a safety-related defect or does not comply with a federal safety standard.
When this happens, the vehicle manufacturer will alert owners to the problem and usually offer a free repair. A recall doesn't necessarily mean that the entire vehicle will be replaced, generally only the part will be replaced free of charge.
Who is responsible for the cost of the repair?
Repairs conducted under any vehicle recall are
free
, the vehicle manufacturer is responsible to pay for parts & labor on any safety recall that may occur. You are not responsible for any costs involved.
Putting the dangers in perspective
Seven fatalities and more than 100 injuries have been linked to the Takata airbags throughout all vehicle manufacturers, and in some cases the incidents were horrific, with metal shards penetrating a driver's face and neck. As awful as they are, such incidents are very rare.
Despite these figures, airbags in general are not a danger. The Department of Transportation estimates that between 1987 and 2012, frontal airbags have saved 37,000 lives.
How do I book my vehicle for a recall?
Generally the vehicle manufacturer will send you a letter if your vehicle is subject to any vehicle recalls, however when a vehicle has been sold the new owner may not be aware that their new vehicle is subject to a recall. It is always best practice to check any second hand vehicle that you have purchased or are going to purchase is free of any safety recalls.
If you require any further recall information or if you are subject to a safety recall and need to make an appointment, contact your Local Toyota Dealership or visit the Driver and Vehicle Standards Agency website.