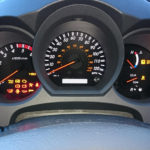 After reading this article you will be able to identify what Vehicle Stability Control (VSC) is, and what you need to look for to find out if you have it fitted.
Vehicle Stability Control is also commonly known as its abbreviation VSC. It is one of Toyota's safety features that helps ensure your vehicle travels in the direction that you are steering. When you are cornering vehicle stability control helps you maintain grip on slippery surfaces. It provides greater control by automatically applying the brakes and controlling the engine output, which helps to reduce over steer.
How do I know if I have VSC?
To help you identify if you have vehicle stability control fitted, RoughTrax has compiled three quick and easy ways to check depending on your model - it literally takes seconds!
Look for the VSC OFF light on the dashboard
Whilst sitting inside the vehicle looking at your dashboard switch on your ignition. Usually on the right hand side of the dashboard gauges a VSC OFF warning light will flash on. The light will only flash for around 2-3 seconds, this is to test the dash lights then when starting the ignition. If you didn't have time to see it switch the ignition off and try again, alternatively try:
Switch the ignition on and move the 4WD shifter into the L4 position. If you have vehicle stability control fitted then this will automatically illuminate the VSC OFF warning light on the dashboard. Put the 4WD shifter back into the H2 position and the light will go out.
Measure the diameter of your front brake discs
To compare Hilux pickup models with or without vehicle stability control, remove the front wheel and measure the overall diameter of the
front brake disc
with a tape measure. For models
with VSC
fitted the front brake disc diameter is approx.
320mm.
For models
without VSC
the front brake disc diameter will be approx.
297mm
. With over 20mm difference in diameter of front brake discs it is fairly easy to distinguish the dimension.
Check the operation of the rear load sensing valve
The Hilux Pickup & Land Cruiser models
with VSC
fitted have a hydraulic pressure operated rear proportioning valve, which is also known as a load sensing valve. This is instead of the diagonal spring bar and linkage that operates the brake proportioning valve. This runs from the rear axle link diagonally up to the valve that is only found on models without vehicle stability control. Only models 
without VSC
will have the mechanical diagonal rod linkage. This operates the load sensing valve when the vehicle is loaded or unloaded.
We hope that you have found this information helpful in determining if your vehicle has got Vehicle Stability Control fitted. All information is provided by RoughTrax in good faith for guidance and reference purposes only.
Click here to view all our Brake Discs, Shoes, Pads and Accessories