A very common question we are asked by our customers is "What is the difference in RoughTrax premium exhaust quality to others?" Well, let us explain;
Who is the manufacturer?
The manufacturer for RoughTrax premium exhausts are
A2A Exhaust Specialists
, A2A stands for Air 2 Air and is a brand name for TMA, their strap line is "OE in everything but name".
TMA is the largest independent manufacturer of quality exhausts in the UK. With full ISO 9001 approval on the quality manufacturing system, and Type Approval on Selected ranges,
TMA
Exhausts has earned a reputation in both aftermarket and OEM markets for excellent quality and value for money. Based in Manchester, TMA has a 60,000 sq. ft. manufacturing facility. TMA's knowledgeable and dedicated team offers clients continued, personal commitment to excellence and have great pride in the products they manufacture.
A2A Exhaust Component Breakdown
A2A Label - Quality assured and displays 2 Year Warranty.
Emboss - Displays A2A logo, the country of origin and batch traceability (All our A2A exhausts are exclusively manufactured in the UK).
Stainless Steel Tail Trims - Curled inner lined 304 stainless, for strength and longer lasting polished effect (Other branded suppliers use a cheaper chroming method to save money, which over time blisters and flakes away).
Sacrificial Protection Shield - Protects the silencer when driving over speed ramps and sleeping policemen (Protection plates and heat shields are sometimes left off other branded products).
Flanges - Machined cut as OE, with nuts and bolts for easy fit (Universal flanges are sometimes used for ease, and cost saving on other branded exhaust).
Hanging Wires - Made to OE spec 8mm, 10mm or 12mm with strengthening wire for stability (Other branded suppliers will choose a smaller wire to save money).
Mandrel Bend - Mandrel bent pipes for fully formed tube (Some branded manufacturer's don't have the equipment for mandrel bending)
Dished End Plates - Strengthen the muffler and reduces sound (Some aftermarket manufacturers don't use dished end plates because of the cost involved).
Headed Wires - Gives the correct retention within the rubber mounting (Other manufacturer's will use a turn down wire instead of a headed wire to save money and time).
Muffler Construction - Welded construction provides strength and integrity of build (Some muffler constructions are crimped not welded, which can loosen and rattle).
Baffle Plates - All baffle plates are made from aluminized steel as per OE (Most exhaust manufacturer's use mild steel baffle plates to save money, which will corrode quicker than aluminized).
Perforated Baffles/Tube - Ensures smooth gas flow and achieves optimum back pressure and sound level (Aftermarket tend to use solid baffle not perforated to save money).
Biosil Packing - Each pack pre weighed for sound absorption, with immediate and lasting sound reduction (Some manufacturer's use packing that is wrapped in plastic, this means the muffler will sound noisy until the plastic burns away).
Strengthening Bar - Supports the internal assembly within the muffler (OE designed strengthening bars are not often used in other branded products).
Interrupted Perforated Tube - Ensures correct gas flow and back pressure (as OE prolongs engine life and reduces wear by maintaining back pressure for the system).
A2A Exhaust Silencer Muffle Internals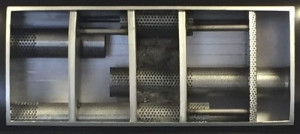 Every exhaust manufactured for RoughTrax by TMA is matched exactly with the original Genuine Toyota exhaust. RoughTrax actually purchase Genuine Toyota exhausts which then TMA cut open to view the internals and specifications of each exhaust to match everything like for like to create an A2A equivalent. They are later tested and approved to the Original Equipment requirements, TMA's manufacturing excellence is able to offer complete customer satisfaction wherever and whenever it is required. With regard to PPM defect rates they operate at world class levels.
A2A Exhaust system comparison against competitors
Below are test results provided by TMA comparing an A2A exhaust silencer with a competitor's equivalent.
Brand 
 Competitor
System Fit

Good fit all round
Developed on the vehicle using 130e section matching Original Equipment and Walker for volume

Very poor fit.
Top of the box is hitting the under body, knocking against car on start-up and when driving
Box sitting at approx. 25 degrees due to smaller 110e box section with reduced volume being used.

Sound Readings

Noise at idle: 58.8D

Noise at 3000RPM: 74.1DB

Cockpit noise: 41.5DB

Noise at idle: 60.2DB Noise at 3000RPM: 76.5DB Cockpit noise: 45.2DB
Sound Quality

Very good sound quality
Very quiet at idle with low cockpit noise

Very poor sound quality.
Tinny / booming sound, which resulted in a hallow sound in the cockpit.
The pickup was hesitant not smooth when revved.

Internals
 
 
Design

Blanks off gas flow at both inlet and outlet chambers so gas passes through acoustic packing material 3 times.
Perforated baffles mean as gas enters it's 3rd pass of the insert 100% of the Biosil becomes available to reduce noise further.
Results in lower noise than even OE during testing.

Cheap design that simply restricts gas flow at inlet into an empty chamber, then allows gas to pass through one end of acoustic material.
Combined with the lack of internal volume results in the poor sound quality.