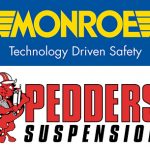 So how do Shock Absorbers work?
Simply put, shock absorbers work by allowing the springs to absorb the energy when your tyre hits a bump in the road.
They are essentially oil pumps. A piston is attached to the end of the piston rod and works against hydraulic fluid in the pressure tube. As the suspension travels up and down, the hydraulic fluid is forced through tiny holes inside the piston. However, these holes only let a small amount of fluid through the piston. This slows down the piston, which in turn slows down spring and suspension movement.
When do shock absorbers need replacing?
Here are a few quick signs to look out for:
Poor handling, stiffness, knocking noises, or strange bouncing
Car nose dive when braking
Oil stains, as this shows they may be leaking
Scalloped dips or a cupped pattern appearing around the edge of the tyre tread (as shown in the image) could mean that the shock absorbers are worn or that the suspension parts are loose. The pattern can also happen when there is excessive movement of the tyre, indicating that the tyres could be unbalanced.
We also supply various lift kits, struts, torsion bars, leaf springs, replacement coils and additional suspension accessories.
What is the difference between our Monroe and Pedders shock absorber Brands?
If you have been looking at our website you will probably have spotted these two brands and wondered why exactly you might choose one brand over the other, so here are some facts to help you decide:

S

uitability: Monroe shock absorbers deliver both a soft, comfortable ride and firm vehicle handling. Perfect for customers using their vehicles for road use or very light off-road. Offering an excellent all-round shock.
Manufactured: Europe
Price: Great value, tough and reliable.
Filled with: Gas
History: Monroe was started up by August F. Meyer in Monroe, Michigan in 1916. So are now over 100 years old. August was soon joined by Charles S. McIntyre who has helped the company expand into Europe and grow into a global success. Their motivation has always been 'to enhance vehicle stability and performance'.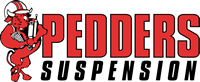 Suitability: Pedders shock absorbers are designed for keeping heavy 4x4 suspension systems under control whilst still maintaining a comfortable ride and offering precise handling. They are suitable for general road use as well as superb off-road use. You can be assured of their exceptional quality as the shock absorbers are tested in the outback terrain.
Manufactured: Australia
Price: Generally more expensive due to the design, heavier construction, larger pistons and materials, as well being imported from Australia
Filled with: Gas or Foam
History: Roy Pedder started refurbishing old shock absorbers in his welding shop in 1950. Later taking the step to build their own shock absorbers the 70's. Pedders are still a family company with Roy's son Mark taking on the role of Managing Director. They have over 120 locations in Australia and are now selling their products worldwide.
We hope you found this article useful.  To view our full range of shock aborbers and accessories please  select your vehicle and go to the 'Suspension' category. Remember there's Free delivery on online orders over £75 to UK mainland!